Secure Your Staff & Property
Designed to alert homeowners and facility managers to fire danger before a deadly or costly blaze ensues, Fire alarms are available in a variety of conventional and "intelligent" options. Whether you require standalone equipment or prefer to integrate fire protection equipment into your existing safety system, RCSC products perform reliably when seconds matter.
When designing your fire alarm system, our team takes your budget, location, and safety vulnerabilities into account. An alarm system that is thoughtfully designed and properly installed can prevent a minor fire from threatening life safety, detouring profitability, and bringing your business to a costly standstill.
Benefits of RCSC Fire Alarm Systems
State-of-the-art fire alarm systems are scalable, customizable, and compliant with National Fire Protection Association standards and Local Authorities Having Jurisdiction (AHJ). Each system is carefully designed to reduce emergency response times, with features and benefits that include:
For your peace of mind, we also provide 24/7 monitoring for your commercial, multi-family, or residential fire and smoke alarm system. Our trained professionals react immediately when your fire alarm is dispatched: contacting first responders and notifying your list of emergency contacts.
By law, all fire alarm systems must be inspected every year. Our licensed Fire Protection Specialists are trained to provide safety and reliability checks, complete necessary repairs, and assure compliance with building codes and insurance guidelines. To schedule an inspection, call 469.626.7272 today.
Each property and industry have unique fire risks, security vulnerabilities, and life-safety requirements. We help you safeguard occupants and properties by scheduling a comprehensive, onsite inspection. Fire protection expertise includes: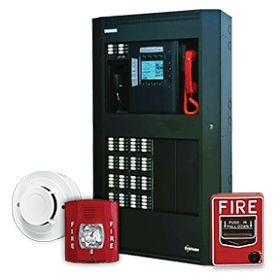 Fire Protection System Services
Tailoring solutions to your specialized safety and budget requirements, the RC Security Consulting Systems team provides ironclad fire protection services for families, business owners, and properties around DFW Metroplex and beyond. After assessing your vulnerability to fire, smoke, and life safety risk, our experts install and maintain fire alarms. For your peace of mind, we also perform the routine maintenance and inspections that safeguard your system's operation and longevity.