Even the best access systems pose huge risks due to keypad readers. It is possible for keypads to make doors appear unlocked if deployed incorrectly. Although keypads present some drawbacks, they are still commonly used today despite their shortcomings.
Keypad Operation
In access control, keypads serve a simple purpose. If a combination string, usually a sequence of numbers, is not entered into a nearby number pad, the door or gate remains locked. Users are assigned their own numbers in access control applications, known as Personal Identification Numbers (PINs). If the user does not enter a valid combination, the opening remains locked.
Using keypads has the advantage of not requiring external credentials. Card or fob purchases are not necessary, fingerprint enrollment is not necessary, and template records need not be maintained. There are no other requirements, other than memorizing an access code or including it in other documents. A system without external credentials has a lower operating cost than one that relies on credentials.
Typical Keypad Problems
Access readers such as keypads have immense vulnerabilities despite being one of the oldest and most popular types. The worst part is that these problems can easily be exploited without any special tools or skills. These shortcomings may differ between units, but the most common problems are:
Open Buttons – During the course of using the keypad, it is common for the buttons to wear and collect dirt. This is a huge problem since only those buttons that are necessary for gaining access usually show any amount of wear and tear.
Prying Eyes – Even casual observers can memorize PIN numbers if the user does not shield their fingers and keypad from view. It is also possible for an intruder to determine a valid combination by using thermal cameras or long-range optics.
Easy PIN Sharing – While sharing PINs with just one individual may seem like an easy solution, that means that 'access control' has been lost. In addition, there are instances in which labels or stickers contain valid and general codes attached to the keypad. This completely undermines the very idea of electronic access codes being required to access the unit by having them in plain sight.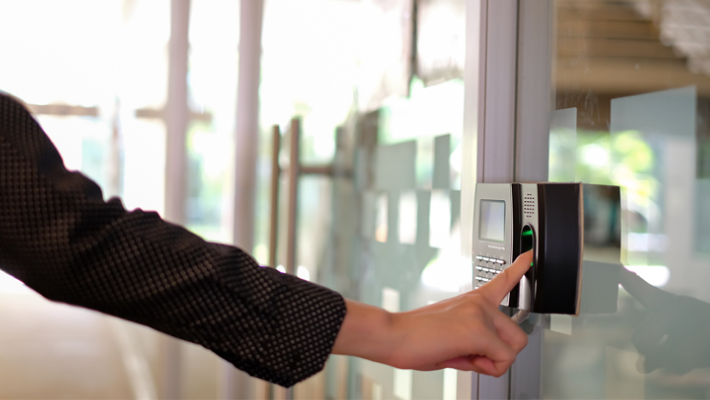 Additional Authentication
Combining more than one credential with keypads can further enhance their security. By requiring users to carry a credential card as well as a unique PIN combination, you ensure that lost/stolen cards and shared codes cannot be used individually.
A keypad variant called scramble pads display numerical digits in a random pattern, and not in a predictable order from 1-9. Due to the random nature of the procedure, the button wear vulnerability is mitigated, and wear is distributed evenly across all buttons. However, these options do increase initial and maintenance costs.
Practical Solutions
Keypads are inherent risks, but they can be minimized by paying attention and managing them actively. Consistently clean any oils, grime or temporary impacts, for example snow. Keypads installed within hinged enclosures may improve security, but inspection of the buttons, cleanliness, and wear and tear checks will go a long way in maintaining it. Furthermore, all the additional effort results in higher maintenance costs than those associated with other types of credentials, such as contactless or biometric.
PIN assignments typically never change on keypads, which is one of the biggest problems with keypad use. Routinely changing PINs is the easiest and most effective way to maintain control over them. As a result, the number of secure slips the user keeps increases over time. If the number of PINs is less than 100, changing the PINs twice a year can greatly increase security.
If you are looking to update security features for your business, like adding Keypads for Access Control let RC Security help. Our continued research and partnerships with premium brands allow us to offer better quality every time.
About RC Security Consulting
RC Security Consulting protects the heart of Texas with design, installation, retrofit, repair, inspection, and monitoring of commercial security systems. We are centrally located in Collin County and provide service for almost 200 miles in all directions. Connect with us on LinkedIn to learn more.