Converged Vs Dedicated Networks
Several services can share network resources on converged networks. This includes security cameras, VoIP telephones, along with general data traffic such as email and internet traffic. There are many financial benefits for adding surveillance equipment to existing PoE ports. However, it is likely to cause a conflict for resources.
Streaming video surveillance continuously was not designed into many networks. Many surveillance deployments experience this issue. As a result, adding surveillance to an existing network can cause significant operational issues, which include bandwidth limitations. Dedicated networks are therefore preferred by many.
As the surveillance equipment is isolated on its own LAN, it will not experience the same amount of contention for resources that exists when systems share a network. Since dedicated networks need their own equipment, they are more expensive.
Bandwidth
It is unlikely that adding a few cameras to existing equipment will have a large impact on small applications such as email. The reason being that the total throughput added to the switch is so minor when compared to the network capacity. There is however the possibility of overloading network infrastructure when there are many cameras scattered throughout a campus or facility, especially if the average traffic is high and other systems are active at the same time.
Dedicated networks don't share bandwidth, which is the biggest advantage. In addition to removing the impact on bandwidth availability, a dedicated surveillance network adds more capacity. Essentially, the down side is the cost of installing, maintaining, and purchasing a new video-only network.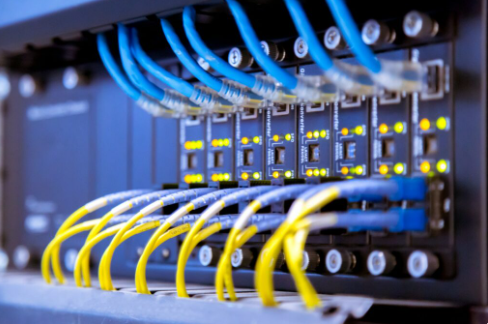 Site Size & Scalability
A network's scale and size are important considerations. There is a matter of infrastructure investment when tying a number of sites together. It can be expensive when there are multiple buildings or sites, and existing connections may lack fiber or cable.
A majority of organizations have already invested in networks connecting multiple buildings and campuses. Thankfully, it is common for those links to be planned with expansion in mind. 
In the case of dedicated networks, however, this can be expensive or difficult, since new cables must be run between buildings. For this reason individuals often decide to use converged networks instead.
Securing Network Accessibility
Separating surveillance traffic from the rest of the network makes it more difficult for hackers to gain access. It is also easier to secure traffic when video access is explicitly granted.
It is more difficult to access surveillance equipment when it is located on a dedicated network since it is not connected to the organization's LAN. To overcome this problem, VMS servers and NVRs often come with multiple network interfaces; one for connecting to the camera LAN and another for connecting to the facility's general network. Using this method, a dedicated LAN camera is not accessible to the main network, but the NVR can view video through it.
It may also be necessary to configure additional connections and configurations for remote access, because VPNs used for general networks may not connect to camera networks. If available, cloud connectivity or a separate VPN setup may be required.
If you are looking to update security features for your business, like Converged or Dedicated Networks let RC Security help. Our continued research and partnerships with premium brands allow us to offer better quality every time.
About RC Security Consulting
RC Security Consulting protects the heart of Texas with design, installation, retrofit, repair, inspection, and monitoring of commercial security systems. We are centrally located in Collin County and provide service for almost 200 miles in all directions. Connect with us on LinkedIn to learn more.